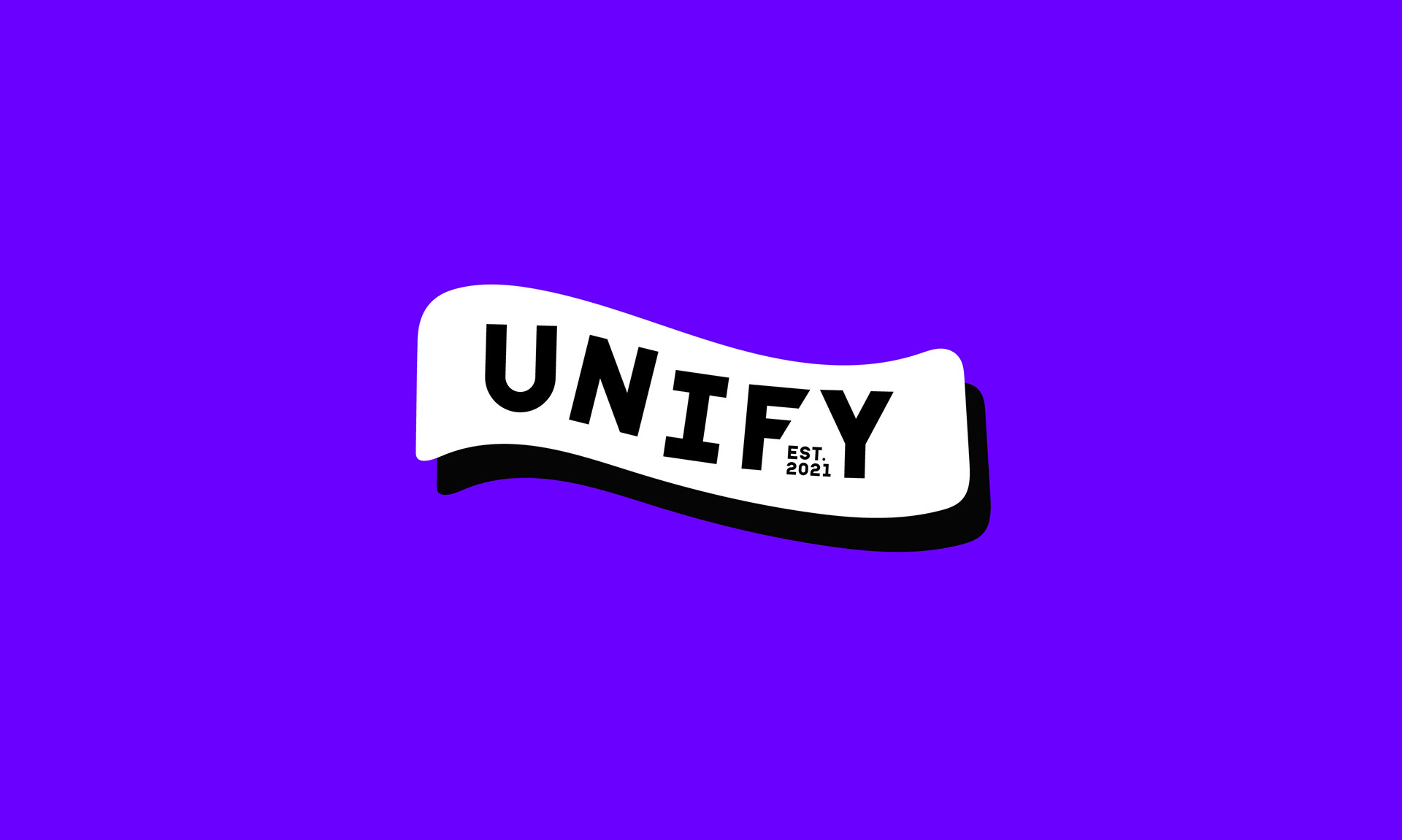 Unify is a creative community with the key goal of bringing existing industry creatives to the fresh new faces of design. 
With the effects of the global pandemic, the challenges creative graduates are facing are unimaginable and has therefore turned what is normally an enjoyable and exciting time, into one of worry and anticipation for the future. 
Unify is a creative community representing creative graduates and making the connections they may not be able to achieve on their own. We do this through conducting weekly live Q&A sessions with industry creatives to get the inside scoop on 
what's
 happening in the current design industry!
Although the weekly Lives are the main focus on the platform, we also aim to interact with the audience as much as possible. We do this through showcasing a Student Designer of The Week, having open submissions for people to ask questions anonymously to the guest of that week and having creatives takeover the platform. 
The visual language for Unify is constructed through a minimal but vibrant colour palette and bold accompanying assets. As we knew the community would be mostly social media based, we wanted the visual identity to be powerful yet not too complex. 
The logo is a simple black and white banner with the name 'Unify' placed within it, the background is then the main vibrant purple colour. We chose Apice Regular for the text as it is heavily weighted and allows the name to be communicated when the logo is resized, also considering the Instagram profile photo sizing. 
The 'F' within the logo was altered to become the same style as the Falmouth University logo. 
We thought this would add a nice touch and a small connection to where the community originated.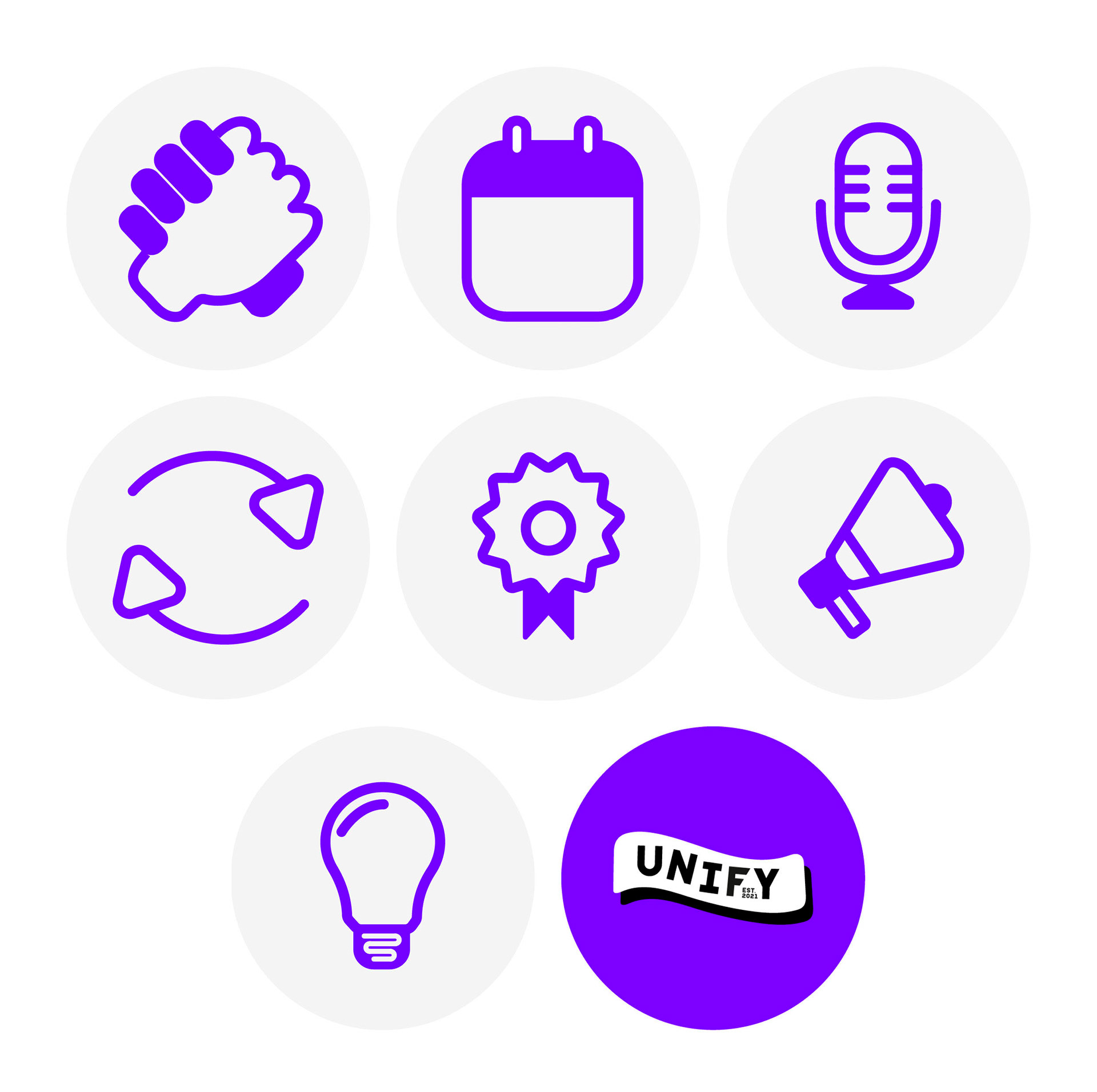 One idea we had at the initial stages of Unify was to create a virtual exhibition, aiming to showcase our year group's talent and help with any networking opportunities. 
Knowing that this idea had a lot of potential, we acted fast in preparing a presentation that explained how we could use the Falmouth University's pre-existing 360 technology to create a streetview-like showcasing of the work in the upper graphics studio. We figured out how to decorate and structure the exhibition virtually in order to make it easily navigated and accessible.
The exhibition style could be adapted and refined in 
order
 to become more applicable to a range of different needs and environments 
also.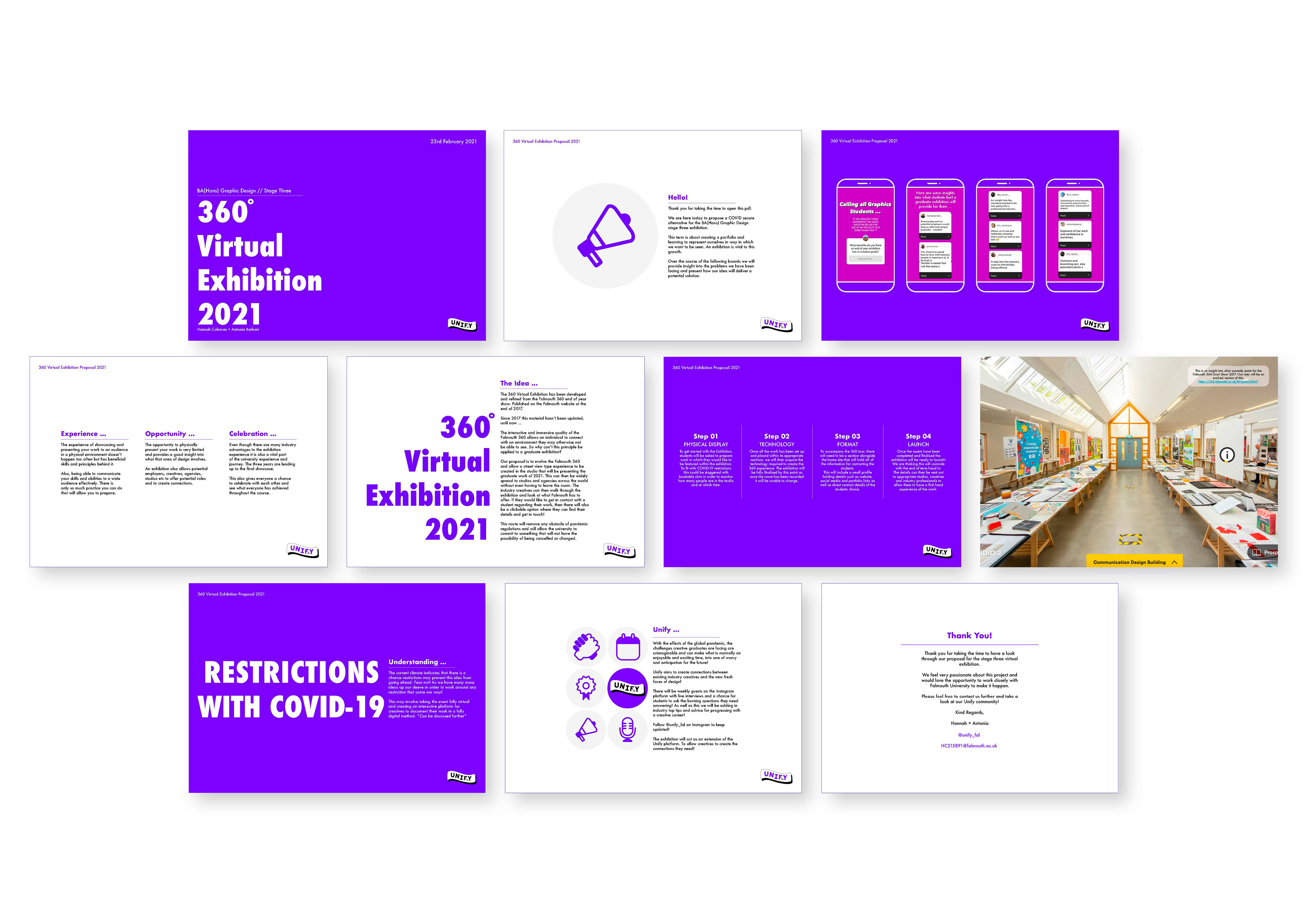 " 

Hannah and Antonia were really professional and organised. Made getting involved with Unify simple and low hassle. Asking lots of great questions and doing a great job of promoting the talk. I'm sure Unify will become a big success. 

"
" 

Unify is an amazing initiative to better connect students with industry. Regardless of the world we currently live in, it is an invaluable insight into how graduates can transition into the design industry and (on a personal level) how that journey is different for everyone. 

I was honoured to be a part of the weekly guest line up and although perhaps a daunting prospect to be recorded live, Antonia and Hannah both made me feel relaxed and the whole thing felt like a genuine chat with friends. Having a call a few days before was a great chance to meet and chat through what to expect, as well as sending across a rough list of questions helped me to prepare.

Overall, a great platform to help break down the clichés and unknowns of how to get a job after graduating and as a Falmouth alumni, it would have been a great help (and comfort) to hear more stories like the ones that have featured on Unify. I hope that sharing my journey has helped in one way or another and I really hope Unify becomes a regular part of the graphic design course. An inspired idea in the face of the pandemic and credit to the Unify team for making it happen
.
"
" 
My experience with Unify Fal was really positive. I was the first guest and I was very impressed by the professionalism and organisation of both Hannah and Antonia. I think the confidence of them both to not only get out there and contact people in the industry but then also to test out a new platform and  put themselves out there is something quite special and will put them in really good stead                      for future presentations. 
Communication was good throughout and they even made time for a chat before the Instagram Live to talk through how it would work! 
I really enjoyed being part of it and would definitely recommend it.
"
" 
Unify Fal is an incredible platform, set up with wonderful initiative to help the conversation between creatives.  Through their Instagram lives I have connected with numerous creatives and learnt so much about the design industry.  My Instagram live was a delight, I felt at ease and the questions were conducted in a bright and well delivered manner.  Thanks for getting me involved!
"
" 
Unify is definitely something I wish had been around when I was graduating, but I'm so honoured and proud to be a part of it for current and future graduates. It's been so wonderful seeing current fal graduates and what they're working on.
I've loved watching along both in the background and being part of an Instagram live, to be a part of such a wholesome and uplifting environment has given me a boost of confidence in a way I hadn't imagined before. Lots of people have since got back to me saying how grateful they are etc which has given me the courage to continue speaking my truth to help others.
Antonia and Hannah have been brilliant too, incredibly organised and courageous with their networking attempts. 
And I couldn't be more proud of them for doing something so many of us wish we'd had the confidence to do when we were their age.
"